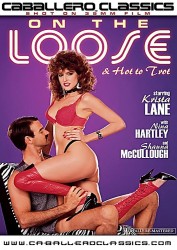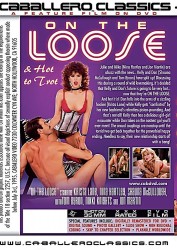 Country: USA
Language: English
Release Date: 1987
Distributor:
Caballero Video
Director: Henri Pachard
Starring: Jessica Wylde (as Jessica Wilde), Krista Lane, Nikki Knight (as Nikki Knights), Nina Hartley, Shanna McCullough, Jon Martin, Mike Horner, Paul Thomas, Tom Byron
Description: Julie and Mike (Nina Hartley and Jon Martin) are abuzz with the news. . . Kelly and Dan (Shauna McCullough and Tom Byron) have split up! Discussing this during a round of wild lovemaking, it's decided that Kelly and Dan's future is going to be very hot. . . now that they're On The Loose. And hot it is! Dan falls into the arms of a sizzling hooker (Krista Lane) while Kelly gets "comforted" by her new boyfriend's relentless piston pounding. And that's not all! Kelly then has a delicious girl-girl encounter while Dan takes on the nastiest gal you'll ever meet! The sexual couplings are nonstop until the torrid two get back together for the proverbial happy ending. Needless to say, their new relationship starts off with a bang!
File: 1.35 GB (Split Scenes)
Type: MPEG
Duration: 01:12:28
Video: 640 x 480, MPEG-2, 29.970 fps, 2500 kbps, 0.271 bit/pixel
Audio: MPEG-1 Layer 2, 48000Hz, 192 kb/s, Stereo
Individual links for each scene:
Scene 1 —
http://filepost.com/files/27c5f294/OnLooseSc1.rar
Scene 2 —
http://filepost.com/files/ab7f21c2/OnLooseSc2.rar
Scene 3 —
http://filepost.com/files/ddc5d684/OnLooseSc3.rar
Scene 4 —
http://filepost.com/files/8mam4d8f/OnLooseSc4.rar
Scene 5 —
http://filepost.com/files/dc6da3bd/OnLooseSc5.rar
Scene 6 —
http://filepost.com/files/d59ab657/OnLooseSc6.rar