Essaie-moi partout (1978)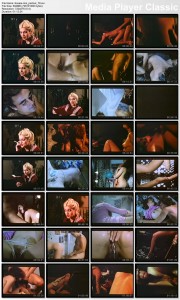 Country: France
Language: French
Genre: Feature, Classic
Director: Michel Baudricourt
Distributor: Fil à Film
Cast: : Actresses
• Claude Janna as Rachel Janna
• Elisabeth Buré as Elisabeth Buret
• Jenny Feeling
• Jocelyne Clairis
• Liliane Lemieuvre as Karen Allan
• Ursula White non-sex
Rough scene breakdown.
1. Claude Janna with Charlie Schreiner.
2. Jenny Feeling with Richard Lemieuvre.
3. Liliane Lemieuvre sucking unidentified male organ.
4. Elisabeth Buré with Alban Ceray and Charlie Schreiner.
5. Jenny Feeling with Alban Ceray.
6. Jocelyne Clairis dancing naked in front of unidentified man in some sort of peepshow.
7. Claude Janna with Richard Lemieuvre and Charlie Schreiner among flower petals. This scene was used as a hard insert at the beginning of Le journalérotiqued'unbûcheron.
8. Elisabeth Buré masturbating on the floor, surrounded by bank notes and using one of them.
9. Jenny Feeling masturbating with a dildo in her bathroom in front of Alban Ceray, then sucking him.
10. Elisabeth Buré raped by Charlie Schreiner.
11. Jenny Feeling with Alban Ceray.
12. Liliane Lemieuvre masturbating with a corn cob in a black bathroom, joined by masturbating Jacques Gatteau who comes on the cob.
Type of file: AVI
Video: DivX 6 720x576
Audio: 48000Hz stereo
File size: 696 MB | Run time: 01:12:25
Download Rapidgator (free, no pass):
http://rapidgator.net/file/26749907
http://rapidgator.net/file/26750679