Vices extremes (1990)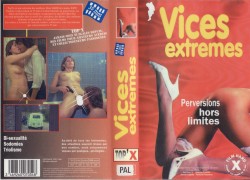 Country: France
Language: French
Director: D. Serranno
Distributor: Reine Pirau TopX
Cast: Noelle Bellami; Valerie Martin's; André Miller (Hervé Amalou OR/AND Corinne Carmona ; Chris Darincourt ; Dominique Silvero (Melissa Bonsardo ??) ; Brigitte Cormier.
Description: The film is presented as the "Joy Karin's excesses, it is a compilation of scenes from, I suppose, different Pierre Unia's films, commented & presented by Joy.
In the first one the nurse is sucking the cock of her boss, the wife arrives she agrees to share her man only if she can participate.
Then comes a scene where after liking the pussy of his wife in the car, a husband ask her to piss on his face.
Next: Jean Pierre Armand who first refuses the advances of his wife, accepts them once a hot lady calls him and asks to make love on the phone.
Mina Houghe watching a porn movie with 2 guys cannot resist very long to their advances.
Back in the time, begin of the 1900's, an uncle discovering an aristocratic young lady flirting with the son of the gardener, decides to punish them with an enema, mix of water and mustard.
Follows a scene where 2 lesbians having sex in the nature are surprised and punished by a guy.
Finally, a woman is kidnapped by 4 naked guys wearing masks. They bring her to a room where another woman is waiting, a big party follows.
Type of file: AVI
Video: DIVX 640x480 25.00fps 1200Kbps
Audio: MPEG Audio Layer 3 48000Hz stereo 128Kbps
File size: 597MB | Run time: 01:02:13
Download asfile.com (free, no pass):
Vices_extremes.avi